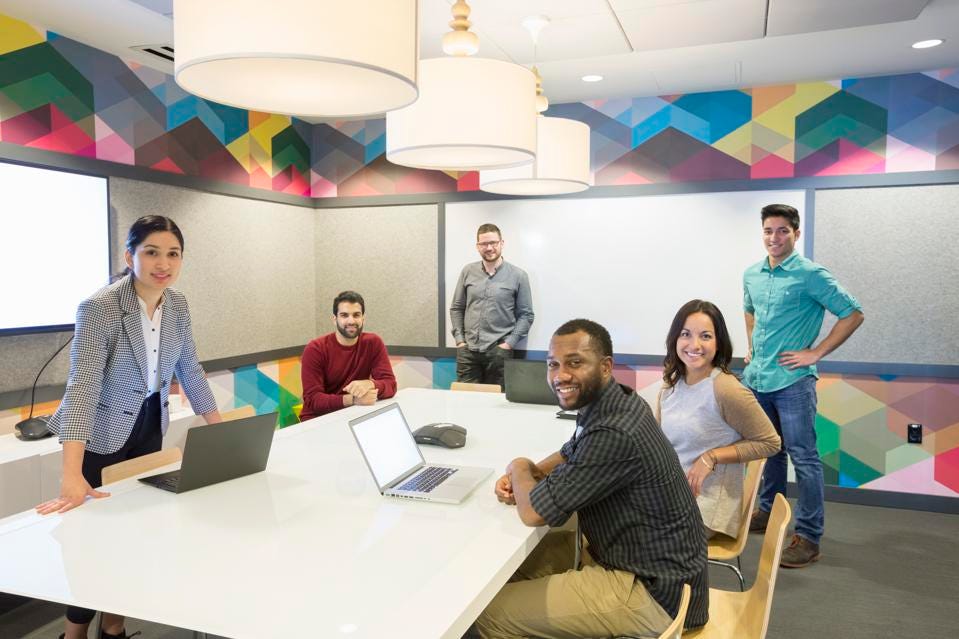 23 Jun

Fostering An Inclusive Environment In The Workplace

Feb 4, 2021,07:40am EST|

Andriana EliadisForbes Councils Member
COUNCIL POST| Membership (fee-based)Leadership
Dr. Andriana Eliadis, Executive Education Facilitator at Cornell University, NY, USA and Director at CorporateExecutiveCoach.
Fostering An Inclusive Environment In he Workplace
Following the recent social unrest with the death of George Floyd and the growth of the Black Lives Matter movement, there were many questions from my corporate clients of how they should bring matters of diversity, equity and inclusion (DEI) in their workplace — how should they lead so as to create an inclusive environment for all.
DEI initiatives can be challenging to design when there are so many different parameters to account for in a workplace environment. Leaders must establish a foundation in their organizations for such a culture to foster and flourish, but they cannot do it alone; employees must be part of the co-creation of this environment to be established and sustained.
How will this transpire? The initiative must begin from the top of the organization and transcend to all its layers. Creating an inclusive workplace environment lies in the leaders' responsibility to shape a workgroup climate to enhance team member experiences, engagement, well-being and performance.
Fostering inclusion necessitates that you, as the leader, support team members to comprehend what inclusion is and its significance; this can help to inspire them to engage in inclusive behaviors intrinsically. It's better to think about DEI leadership as a process designed to facilitate a specific set of actions.
There are four essential steps to creating an inclusive workplace environment.
• First, you need to take a step back and understand the current DEI climate of your organization.
You cannot just say to your people, "Be inclusive," and expect them to adhere to your DEI processes automatically. It would be best if you created a climate in which inclusive interactions are what people come to expect and value within themselves and from their colleagues.
How will you do that? Depending on your organization's size, it is vital to find out where your organization stands and where your starting point is with your DEI initiatives — what information is available, and what additional information do you need to have? Collect data to help build the holistic picture of your organization's current DEI position (for example, employee demographics, employee opinion surveys, talent management data, focus groups surveys, etc.).
You need to know what are the cultural norms and expectations of your organization. Are there any cultural tensions? What are they? Have issues involving gender representation, LGBTQ+ or race been reported in your professional setting? What are the other leaders of your organization saying and doing about DEI? What are their social skepticisms and aspirations? Can you collaborate?
• Second, you need to communicate the precise inclusive criteria and help your people comprehend your inclusion principles. Leaders need to bring transparency about what inclusion means.
• The third step is to lead by example; demonstrate an inclusive behavior and what it looks like to be inclusive.
• The fourth step is to continuously and consistently implement and emphasize inclusion standards by actively facilitating and guiding employees' behavior. Leaders need to send strong signals to their people about DEI behaviors so they understand the importance of engaging in such actions and developing a clear understanding of their role in shaping inclusion in their organization.
Of course, inclusiveness can also be dependent on peer influence and external environmental conditions. As far as peer influence is concerned, employees frequently see themselves as passive recipients of their organizational climate, thinking that that is how it was passed down to them by their leaders; however, the truth is that employees co-create an inclusive environment. They have the power to influence each other. Inclusive organizational cultures are shaped by employees who co-create inclusive experiences for all the members and behave inclusively even in their leader's absence.
DEI is a relational and social concept. In the end, it is about how employees work together and perform based on the quality of their social connections, their curiosity to learn and their ability to shift their perspectives.
Diversity is a given; what leaders can do with diversity is always a choice. How can you, as a leader, promote greater inclusion within your organization?